FAQ
Shipping
DOMESTIC SHIPPING INFORMATION & RATES
The following charges apply to packages shipped in the continental United States. These are base rates and increase incrementally based on weight class.

Ground - $8.00
5 - 7 business days, Monday - Friday, excluding Saturday and holidays*

Priority 2-Day - $14.00
2 - 3 business days when ordered before 1pm ET, Monday - Friday, excluding Saturday and holidays*

Express Next Day - $27.00
Next business day when ordered before 1pm ET, Monday - Friday, excluding Saturday and holidays*

* Please note that shipping times are approximate and that the number of business days quoted above refers only to delivery time and not to the time needed to prepare your order. While most orders are ready for shipping within 2 business days, some orders take additional time.
INTERNATIONAL SHIPPING INFORMATION & RATES
**Due to ongoing carrier delays, please allow additional time for order processing and shipping.**
International shipping is currently available to most countries. See International Shipping Zones for a complete list. We ship all of our international orders with Flavor Cloud, our trusted third-party international shipping partner. Flavor Cloud has a number of shipping partners around the world that handle your local delivery and ensure your package arrives safely and quickly.
The cost for shipping your order depends on your location, the size of your order, and the service level you choose for shipping (Express vs. Standard). Our commitment to you is that we are 100% transparent with all international shipping costs, both in terms of shipping rates as well Landing Fee (i.e. duties and taxes/fees). There will be no hidden cost for you.
Alexis Bittar offers both Express and Standard shipping on most international routes, and at checkout you can choose which one you prefer. For a few selected remote areas, only Express or Standard shipping may be available, but that is the exception. Together with our international shipping partner, we will find the lowest shipping rate for you so that you pay as little as possible in shipping fees for your order while ensuring your order will be delivered to you by a high-quality, reliable carrier.
Shipping rates are typically calculated based on the weight and dimensions of your order. They will also vary based on the service level you choose and your location.
The delivery time varies depending on the route/destination. Typically, it takes between 1-5 business days for Express shipments to arrive. Standard shipments usually take between 10-15 business days. Note, these time ranges do not include any delivery delays due to customs clearance, extreme weather, or COVID-19.
Import duty is a tax collected on imports and some exports by a country's customs authorities. A good's value will usually dictate the import duty, and the duties also can vary by product category. Depending on the context, import duty may also be known as a customs duty, tariff, or import tariff. The duties are mandatory and must be paid, whether the fees are paid by the shipper or (as typically is the case) by the customer/recipient. There are other factors besides the good's value that define the amount of duties to be paid, including trade agreements between countries as well as specific customs authorities. For example, some countries have minimum thresholds in terms of good's value below which no duties apply (AKA "de minimis" value)
In addition to duties, many governments levy a tax on imports. Like duties, import taxes are usually a percentage of the good's value. Also, some countries charge multiple taxes on the same good imported. For example, Canadian provinces charge a variety of taxes - from a goods and service tax (GST), to a harmonized system tax (HST), to a retail sales tax (RST), and some provinces charge multiple of these tax-types for the same import.
Typically, you pay duties and taxes at checkout when you place your order. This way you not only see the total cost upfront before placing the order, but you also won't have to pay again when the parcel is delivered to you. In a few instances, we may ask you to pay duties and taxes when the order is delivered to you at delivery because of a destination country requirement or it was not collected at the time of checkout.
Alexis Bittar provides you a tracking number and link when we your order is being fulfilled which typically happens within 24 hours after you place your order. For orders placed over the weekend or during holidays it may take a bit longer. You can track the status of your order through this tracking number and link where updates are posted as your parcel is in transit and ultimately delivered to you.
From time to time customs authorities review a shipment and may ask for additional information before the customs authorities clear the shipment for final delivery. If we need additional information from you to get your shipment cleared by customs, we will reach out to you. Reviews by customs authorities can take as little as a few hours, but occasionally can last much longer.
INTERNATIONAL SHIPPING ZONES
International Shipping Zone 1:
Anguilla, Antigua & Barbuda, Argentina, Armenia, Aruba, Australia, Austria, Bahamas, Barbados, Belgium, Belize, Bermuda, Bolivia, Brazil, Bulgaria, Canada, Cayman Islands, Chile, China, Colombia, Costa Rica, Croatia, Cuba, Cyprus, Czech Republic, Denmark, Dominica, Dominican Republic, Ecuador, El Salvador, Estonia, Finland, France, French Guiana, Germany, Greece, Guadeloupe, Guatemala, Guyana, Haiti, Hong Kong, Hungary, India, Ireland, Italy, Jamaica, Japan, Korea South, Latvia, Lithuania, Luxembourg, Malta, Martinique, Monaco, Netherlands, Netherlands Antilles, New Zealand, Nicaragua, Panama, Paraguay, Peru, Poland, Portugal, Romania, Singapore, Slovakia, Slovenia, Spain, Suriname, Sweden, Thailand, Trinidad And Tobago, United Kingdom, Uruguay, Venezuela

International Shipping Zone 2:
Afghanistan, Albania, Algeria, Andorra, Angola, Azerbaijan, Bahrain, Bangladesh, Belarus, Benin, Bhutan, Bosnia & Herzegovina, Botswana, Brunei Darussalam, Burkina Faso, Burundi, Cambodia, Cameroon, Cape Verde, Central African Republic, Chad, Congo, Cote D'Ivoire, Djibouti, Egypt, Equatorial Guinea, Eritrea, Ethiopia, Faroe Islands, Fiji, French Polynesia, Gabon, Gambia, Georgia, Ghana, Gibraltar, Greenland, Guinea, Guinea-Bissau, Iceland, Indonesia, Iraq, Jordan, Kazakhstan, Kenya, Kiribati, Kosovo, Kuwait, Kyrgyzstan, Laos, Lebanon, Lesotho, Liberia, Liechtenstein, Macao, Madagascar, Malawi, Malaysia, Maldives, Mali, Mauritania, Mauritius, Moldova Republic Of, Montenegro, Morocco, Mozambique, Namibia, Nepal, New Caledonia, Niger, Nigeria, Pakistan, Papua New Guinea, Philippines, Reunion, Rwanda, Sao Tome And Principe, Senegal, Serbia, Seychelles, Sierra Leone, South Africa, Sri Lanka, Sudan, Swaziland, Taiwan, Tajikistan, Tanzania, Togo, Tunisia, Turkey, Turkmenistan, Uganda, Ukraine, Uzbekistan, Vietnam, Yemen, Zambia, Zimbabwe, Guernsey, Jersey, Norway, Switzerland, Israel, Oman, Qatar, Saudi Arabia, United Arab Emirates

We currently do NOT ship to the following countries:
British Indian Ocean Territories, Christmas Islands, Cocos (Keeling) Islands, Congo – Kinshasa, Cook Islands, Curaçao, Falkland Islands, French Southern Territories, Heard Island and McDonald Islands, Iran, Italy, Mayotte, Nauru, Nepal, Niue, Norfolk Islands, North Korea, Palestinian Territories, Pitcairn Islands, Russia, Solomon Islands, Somalia, Syria
Returns & Exchanges
RETURN & EXCHANGE POLICY
Standard Return Policy – We will happily accept unworn, undamaged product purchased at full price, or product received with manufacturing defects, for exchange or refund within 21 days of receipt date from AlexisBittar.com or any Alexis Bittar boutique. Receipt required. Please report any order discrepancy within 14 days of delivery.

Sale items are final sale and therefore are not eligible for exchange or return.
For Instagram or Facebook Marketplace orders please log into the app you purchased through, and request a return within the app. Please note: Instagram and Facebook Marketplace orders cannot be returned to an Alexis Bittar Store.

Refunds will be made in the form of the original payment, see stores for details on cash purchases. Once your return is processed, a credit will be issued for the merchandise amount only. Shipping charges, as well as taxes and duties on international orders are not refundable. Please allow 12 - 14 business days from processing date for the refund to post to your account.

*Requests to exchange merchandise received as a gift must be accompanied by a gift receipt or order number. Product must be unworn, undamaged product purchased at full price, or product received with manufacturing defects, to be eligible for exchange or refund. Refunds will be issued to the original form of payment. Refunds will not be made to the receiver of the gift.

All returns and exchanges can be processed through Loop or at an Alexis Bittar boutique. Click here to begin the return process. During this Loop process, you can choose a $6 flat rate return label to print at home or use a QR code to return via USPS.

If you choose to create your own label instead of using our return label, for your security, please return your purchase with an insured courier (e.g., FedEx, UPS, USPS Parcel Post) and retain your receipt. All Home goods and Handbags must be returned with all original packaging, fill and shipping box. If you choose to use your own return packaging and items are damaged in transit, you are no longer eligible for a refund. Alexis Bittar is not responsible for items damaged or lost in transit.
PRICE ADJUSTMENT
We gladly honor one-time price adjustments on full price merchandise within 7 days of ship date if accompanied by the original receipt. Items not purchased at full price are ineligible for price adjustments. Prices are subject to change at any time. We reserve the right to cancel orders containing erroneous prices including those due to technical or administrative errors on our part.
Fit Guide
RINGS
To determine your ring size, reference an existing ring that fits well. Measure the internal diameter (across the center of the inside of the band) and reference size chart below.
For wider band rings like our Block Ring, if you are between sizes, we suggest sizing up.
Still unsure? Our Client Care Team is here to help you find your best fit.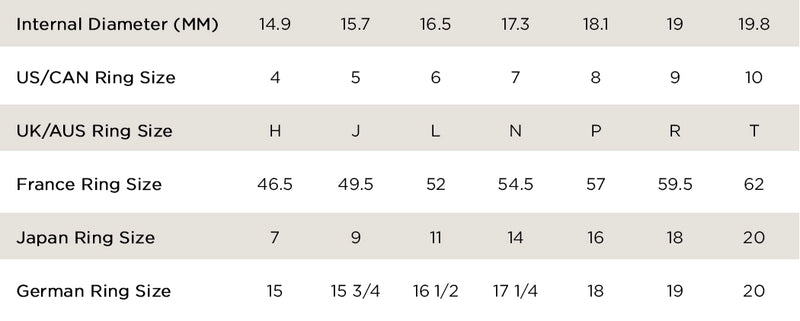 BRACELETS
Our metal and Lucite bangles have an average inner diameter of 2.5" and fit similar to a 7" bracelet.
Our hinge bracelets open with a gentle pull and should be put on at the wrist, not pushed over your hand.
Product Care & Repair
PRODUCT CARE
Our Fashion Collections consist of plated metal, which may darken or tarnish with normal wear. Unfortunately, we are not able to repair discolored or tarnished items at this time. Gently wipe the metal surface with a soft cloth to clean, however, excessive polishing may rub off or scratch the plating. Avoid direct contact with lotions, perfumes or oils. Excessive light, heat or moisture will deteriorate the quality of Lucite, plating, and stones. Each piece is unique, so stones and pearls may vary in shape, size and color. Stone inclusions may be visible to the eye and are considered a part of their beauty.

Our Antique and Vintage items are sold 'as is'. These items are at least 20 years old (vintage) or at least 100 years old (antique) and will show some wear in accordance with age and use. Please read descriptions and review photos to best understand the condition. These pieces come to us via trusted and reputable dealers, most of whom we have been working with for many years.

Vintage and Antique jewelry should be treated with delicate care and thoughtful wear. Avoid prolonged exposure to moisture, excessive heat or light. Gently wipe pieces with a soft, untreated cotton cloth before storing. It's best to store pieces laid flat in a jewelry box or pouch made for that purpose with room between pieces to avoid scratches and other damage. Store like metals together as certain metals together can cause them to tarnish more quickly. Unfortunately, we are unable to offer repairs, ring resizing or certifications of authenticity on these pieces.

If you have any concerns about the condition of an antique or vintage item, please feel free to contact us.
Our Handbags are made of 100% leather and should be handled with proper care to prevent scratching, staining and other damage. Leather surfaces can be spot cleaned with a damp cloth periodically or professionally refurbished seasonally. For lighter colors, we recommend avoiding exposure to dark denim or other dark fabrics that could cause color transfer. 14k gold plated metal hardware can be wiped clean with a dry cloth. When not in use, store handbags in their original dust bag, away from direct sunlight.
REPAIR AND WARRANTY
For assistance with warranty and repair inquiries purchased from the official Alexis Bittar website or Alexis Bittar boutiques, please contact customer service at service@alexisbittar.com.
For assistance with warranty and repair inquiries purchased from an authorized Alexis Bittar retailer (brick and mortar or on-line), please contact the retailer directly for assistance.
Providing proof of purchase and photos of defect or requested repairs in your email will help expedite processing. No product will be accepted in our Alexis Bittar boutiques or online without prior authorization. Unauthorized shipments received without an RA# will be returned to sender. Alexis Bittar will not be responsible for any shipping costs of unauthorized returns or repairs or for items lost in transit by your shipping carrier. Alexis Bittar is not liable for holding any repair items for more than 6 months should the customer fail to respond to inquiries. Read below for more details on warranties and repair policies.
ALEXIS BITTAR COSTUME AND FINE JEWELRY
Alexis Bittar jewelry is covered from the original date of purchase by a six month limited warranty. Conditions and exclusions may apply. Proof of purchase from an authorized Alexis Bittar retailer (brick and mortar or on-line), the Alexis Bittar boutiques, or the official Alexis Bittar website, is required. If the jewelry proves to be defective in material or workmanship under normal use, as determined by Alexis Bittar, anytime within the first six months, we will replace the item with the same or a comparable product free of charge. We cannot guarantee that the original piece of jewelry can be repaired. When a defective piece is replaced, the defective piece will not be returned to the customer.
The six month limited warranty does not cover the following;
Damage resulting from, as determined by Alexis Bittar, improper handling, lack of care, accidents, inappropriate use, modification, attempted repair, negligence, failure to follow care advice, or normal wear and tear.
Products that are not purchased from an authorized Alexis Bittar retailer (brick and mortar or on-line), Alexis Bittar boutiques, or the official Alexis Bittar website.
Jewelry not covered by the six month limited warranty, will be evaluated on a case-by-case basis for possible repair at a cost to the customer to be determined by Alexis Bittar after thorough evaluation. We cannot guarantee that repair is possible. In the case that repair is possible, and the non-refundable repair fee is accepted and paid by the customer, the customer is also responsible for the cost of shipping both to and from our studio. For domestic repairs, a flat rate fee of $6 will be charged at the time of the repair fee to cover return shipping. For international repairs, a variable fee depending on the destination country will be determined and charged at time of shipping, or the customer can choose to provide their own shipping label and customs documents. We suggest using a trackable shipping method. Alexis Bittar is not responsible for pieces lost by your chosen shipping carrier.
To be considered for repair, proof of purchase is required from an authorized Alexis Bittar retailer (brick and mortar or on-line), the Alexis Bittar boutiques, or the official Alexis Bittar website. Products without proof of purchase, or that have damage resulting from, as determined by Alexis Bittar, improper handling, lack of care, accidents, inappropriate use, modification, attempted repair, or negligence will not be considered for repair.
ALEXIS BITTAR HANDBAGS AND SMALL LEATHER GOODS
Alexis Bittar handbags and small leather goods are covered from the original date of purchase by a six month limited warranty. Conditions and exclusions may apply. Proof of purchase from an authorized Alexis Bittar retailer (brick and mortar or on-line), the Alexis Bittar boutiques, or the official Alexis Bittar website, is required. If the handbags or small leather goods prove to be defective in material or workmanship under normal use, as determined by Alexis Bittar, anytime within the first six months, we will replace the item with the same or a comparable product free of charge. Defective pieces will not be returned to the customer.
The variations in color and texture are the prized characteristics of beautiful tanned leather and natural stones. Over time, the leather will acquire a patina and may also darken due to the oils from your skin and direct sunlight, further enhancing the natural look of your handbag or small leather item. Please refer to our Product Care Guide for further information on caring for your handbag or small leather item.
OTHER ALEXIS BITTAR PRODUCT
Alexis Bittar product other than jewelry, handbags, or small leather goods, such as home goods, hair accessories or scarves, are not covered by any warranty implied or otherwise. If one of these items proves to be defective in material or workmanship under normal use, as determined by Alexis Bittar, it may still be eligible for replacement with the same or a comparable product.
For assistance with these products, please contact customer service at service@alexisbittar.com. Providing proof of purchase and photos of defect in your email will help expedite processing.
ANTIQUE AND VINTAGE ITEMS
This policy applies to antique and vintage jewelry, home goods, and other items sold through the Alexis Bittar boutiques and the official Alexis Bittar website. Although all items are carefully checked before being offered for sale, due to the delicate nature and age of these items, we cannot guarantee the condition of these pieces. They are not eligible for repair or replacement.
Payment & Tax
PAYMENT OPTIONS
We accept the following payment methods: Visa, MasterCard, American Express, Discover, Diner's Club, JCB, Elo, Shop Pay, Apple Pay, Paypal. Checks and money orders are not accepted. For security purposes, please do not send cash or include your credit card number in any email communication.

We are also pleased to offer AfterPay, a payment method where you can shop now and pay later through interest-free monthly installments. For more information on AfterPay, please click here to learn more about AfterPay. For all product and order related questions, please contact Alexis Bittar at service@alexisbittar.com or 877.807.7780. For payment related questions, please contact AfterPay directly at 855-289-6014 or visit their help center here. Please note Alexis Bittar cannot assist you with AfterPay related payments, or payment questions.
CHARGING YOUR CREDIT CARD
We do not charge your credit card until we ship your order to you. We authorize your credit card for the amount of the order to verify that the funds are available until the order is shipped. Orders are subject to verification and acceptance before shipping. We are not responsible for typographical errors.

If your order is sent in multiple shipments, whether to the same or to different addresses, your credit card will be charged separately for each shipment.
SALES TAX
Applicable sales tax will be charged on the merchandise total for orders shipped to CA, DC, IL, MA, MO, NY, NC, and WA.
Gifts
PERSONAL MESSAGES AND GIFT RECEIPT
If you would like us to include a personal message with your shipments, simply write your message in the "Notes" section during the checkout process. We will not include messages with profanity, threatening language or other messages that we deem inappropriate.
When you choose the gift wrap option for an item, we will automatically include a gift receipt (prices removed, of course). If you need a gift receipt for an item that you are not having gift wrapped, let us know in the "Notes" section of the checkout process, and we will be sure to include one.
Pre-Orders
What is A Pre-Order?
A pre-order reserves the latest items from upcoming collections or restocks before they are available. Each pre-order item is assigned a pre-order date to indicate when it is expected to ship. You are charged for pre-order items upon checkout and they will ship as soon as it becomes available.
Pre-Order Fulfillment:
Pre-orders are fulfilled in the order of purchases, meaning even if the preorder window is changed, those who have already placed an order will receive their items first. If you purchase an in stock item along with a pre-order item, the in stock item(s) will ship within our regular fulfillment window and the pre-order item will ship when it becomes available. Once each item ships, we will send you an email containing the tracking information.
Pre-Order Availability:
We do our best to ship pre-order items as close to the estimated ship date as possible. In the event that an item is ready to ship later than expected, rest assured that we are working to expedite your order and will try to keep you updated of any changes. If a pre-order item that you purchased now shows as out of stock, this means the pre-order item has sold-out and is no longer available for anyone else to purchase. As we receive your item, we will ship it and send you the tracking information.
Pre-Order Policies:
Unless otherwise stated, discounts do not apply to items on pre-order. Return and exchange policies on pre-order items are the same as on our regular collection items.
Compliance Policy
Alexis Bittar strives to maintain an ADA compliant website and is committed to providing an online environment that is accessible to all visitors. We recognize that accessibility and usability are not always possible in every area of the website or for those using screen readers or other devices to assist viewing of the website.

If you have specific questions or concerns about the accessibility of our website or need any assistance with this website please contact us.

If you have found an inaccessible area on our website, please be sure to specify the specific page and provide us with any other information you may think will help us locate the area. We will make all reasonable efforts to make that page accessible to you. If such page cannot be made accessible with any available tools we will work to make a text version available to you. If you have a need for a specific electronic format, please contact us. Please provide the format that you require the content to be in, the web page address of the material and your contact information. We welcome your questions about this accessibility policy and your comments on how to improve this website's accessibility.
Content Use Agreement
We love your post and know others will benefit from seeing it on our website. As you consider allowing us to publish your post, we want to make sure you know exactly how we intend to use it. You can provide your permission for Alexis Bittar to use your image, video or other content by replying to our Instagram or Twitter post with YEStoAlexisBittar. By providing your permission, you represent and warrant that you own the content and there are no other entities with ownership claims over it. You grant Alexis Bittar a non-exclusive and non-revocable commercial right to reproduce the content in any form (including, but not limited to, video, internet posting, reproduction, display, email, publication, and distribution), either through our own services or services provided by third parties, throughout the world in any medium now known or later developed and without restriction or limitation. You agree that your content may be used by Alexis Bittar either alone or in conjunction with sketches, cartoons, captions, films, art work, textural matter or other photographs. While Alexis Bittar will make commercially reasonable efforts to give you credit for your content and provide a link back to your Facebook, Instagram or Twitter account when applicable, you agree that such credit is not mandatory and your permission for us to use your content is not contingent upon such credit being given. You waive any right to inspect and/or approve the finished work incorporating the content or the advertising copy that may be used in connection therewith or the use of which said finished work may be applied. Further, you waive any claims to royalties with regards to your content or our finished work. Last, you agree that if any provision, or any portion of any provision, contained herein is determined to be invalid under any statute or rule of law, then it shall, to that extent alone, be deemed omitted, and the remainder of this Content Use Agreement shall remain in full force and effect. This Content Use Agreement shall be governed by the laws of the state of New York. If you don't agree to these terms, we completely understand, and no further action is required. Thanks again and please email us at service@alexisbittar.com if you have any questions.
Privacy Policy
Last modified January 2020.
Thank you for visiting Alexis Bittar. We are committed to protecting the information that you share with us, and explaining how we collect, process, and share that information online.
SCOPE AND INFORMATION THAT THIS PRIVACY STATEMENT COVERS
This Privacy Statement applies to Personal Information (defined below) collected on our websites, cloud-based services, or controlled widgets embedded in communication platforms with a link to this Privacy Statement (collectively, the "Site"). It covers how we collect, use, share, and otherwise process such Personal Information as of the date that this Privacy Statement is posted. It does not apply to any other information collected by Alexis Bittar through any other means. By "Personal Information," we mean information that identifies or can identify you personally.

The Site contains links to third-party websites, including websites of our business partners. We do not own, operate or control the websites of such third-parties. Accordingly, this Privacy Statement does not apply to any websites maintained or operated by third-parties for the collection, use, storage, disclosure, or other processing of your Personal Information. When you click on those links, you will go to a third-party website where you will be subject to that website's privacy statement and we encourage you to read that policy statement.
NOTE FOR CALIFORNIA RESIDENTS
If you are a California resident, there are additional disclosures, rights and procedures that apply to you or from which you may benefit; please see our Privacy Notice for California Residents, below, for more information.
SUMMARY OF KEY CONSIDERATIONS
COLLECTION: We collect Personal Information about you that you provide to us or that we obtain while you are using our Services.

PROTECTION: We employ appropriate technical, administrative, and physical safeguards that are designed to prevent unauthorized access, maintain data accuracy, and designed to ensure correct use of Personal Information.

USE: We use Personal Information to provide you with services from our Site, to build features that will make the services available on our Site easier to, to contact you about our services, and to send advertisements, marketing material or other offers that we think might be of interest to you, to perform data analytics, or for other purposes permitted by law.

MARKETING AND CHOICES: You have control on how we use Personal Information for marketing. To exercise your control in any marketing communication, please contact us at service@alexisbittar.com for more information, or follow the instructions provided in the marketing communication, if applicable.

SHARING: We share your Personal Information with our affiliates, external service providers, third party vendors, and/or other unaffiliated third parties for marketing and/or as otherwise necessary to perform transactions with you and manage our business.

COOKIES: Our Site uses cookies and other similar technologies. To opt-out of advertising and certain other cookies, contact us at service@alexisbittar.com.

ACCESS AND DATA SUBJECT RIGHTS: Alexis Bittar understands that you may want to change, access, or delete your Personal Information. You may do so by accessing your profile or by contacting us at service@alexisbittar.com.

CHILDREN: We do not knowingly collect Personal Information from children under the age of 16. If a child under the age of 16 has provided us with Personal Information, we ask that a parent or guardian contact us at service@alexisbittar.com.

CHANGES: We will provide notice of any material changes to this Privacy Statement by posting a prominent notice on our Site and/or emailing you.

CONTACT US: If you have any questions not answered in this policy, our Privacy Officer may be contacted directly at service@alexisbittar.com.
1. COLLECTION AND USE OF YOUR PERSONAL INFORMATION
We collect your Personal Information to offer and enhance our Services, maintain and improve the Site, protect the security of you and our Site, comply with legal obligations, and inform you about other services and products that may be available through us, our affiliated companies, and our marketing partners. We collect Personal Information about you when you interact with or use services offered on this Site, such as when you:
1. Visit our site;
2. Sign up as a registered user on our Site;
3. Sign up for our newsletter;
4. Make a purchase or use a service on this Site or in store;
5. Interact with our customer service personnel, by phone, email, or at one of our stores;
6. Participate in promotions or surveys;
7. Submit comments, reviews, or other user-generated content; and
8. Connect or interact with us through social networks (e.g., Facebook, Instagram, Twitter).

Depending on how you interact with us, Personal Information we collect may include:
1. Identification and contact information (including name, postal or billing address, e-mail address, telephone or mobile number);
2. Username and password for Sites;
3. Credit card and payment information;
4. Location, including via IP address;
5. Cookies and similar technologies;
6. Purchase, transaction, return, and exchange information;
7. Birthdate and age;
8. Gender;
9. Device information (e.g. device model, operating system version, device date and time, unique device identifiers, mobile network information, IP address);
10. The manner in which you use our Site (e.g., search terms used, pages visited);
11. Social media information and other content you provide;
12. Demographic and socioeconomic information; and
13. Other Personal Information, including information that you have disclosed to us in our communications with you, by phone, email, or in person.

We obtain the categories of Personal Information listed above from the following categories of sources:
• Directly from you, for example from forms you complete, preferences you express or provide, or products you purchase.
• Indirectly from you, for example from observing your actions on our Site.
• Automatically from you, for example through cookies as you navigate through our Site.
• From third-parties, such as our marketing partners, third-party websites, or other unrelated third-parties, in connection with the products and services we provide to you.

We may combine information about you that we have with information we obtain from business partners or other companies. In those cases, we will apply this Privacy Policy to the combined information.

Even if you do not send us any Personal Information, we collect certain non-Personal Information about how you use our Site. This information is used for statistical purposes and to provide personalized marketing content.

Our Site contains links to third-party websites, including websites of our business partners. We do not own, operate or control the websites of such third-parties. Accordingly, this Privacy Policy does not apply to any websites maintained or operated by third-parties for the collection, use, storage, disclosure, or other processing of your Personal Information. When you click on those links, you will go to a third-party website where you will be subject to that website's privacy statement and we encourage you to read that policy statement. We are not responsible for the content of third-party websites, any use of such sites or services, or the privacy practices of any third parties.
2. USE OF YOUR PERSONAL INFORMATION
Alexis Bittar Business Activities. We generally process and may disclose your Personal Information to others to: • Provide you with products and services, including managing product returns or exchanges, authenticating authorized users, and marketing our products and services;
• Perform certain transactions initiated by you;
• Respond to your questions, complaints, or reviews of our products;
• Send you communications about online transactions, product information, ads and promotions, electronic newsletters, or other notices you requested or offers tailored to you;
• Enable our advertisers to provide you with more personalized content, and track the effectiveness of certain advertising campaigns;
• Prevent fraud and allow for safer e-commerce shopping experiences;
• Comply with applicable law, obey judicial orders, cooperate with law enforcement authorities, or prevent any suspected illegal activities;
• Help us run our business; or
• For any other everyday business purposes, such as product development and Site administration.
3. SHARING OF YOUR PERSONAL INFORMATION
Alexis Bittar does not, and will not, sell your Personal Information to third parties. At times, we may share your Personal Information as follows:
• With our group of companies, affiliates, and subsidiaries;
• With third-party vendors, consultants, and other service providers who are working on our behalf and require access to your information to carry out that work, such as to process billing, provide customer support, etc. We process and share your Personal Information to fulfill your requests and meet our legitimate business and legal objectives. When we disclose Personal Information to external entities to perform support services for us, we establish by contract that they may access your Personal Information only for the purposes of performing those support services;
• With other persons with whom you have requested, we share information in order to fulfill services you request;
• In connection with, or during the negotiation of, any merger, sale of company stock or assets, financing, acquisition, divestiture, or dissolution of all or a portion of our business;
• If we believe that disclosure is reasonably necessary (a) to comply with any applicable law, regulation, legal process or governmental request; (b) to enforce or comply with our Terms and Conditions of Use or other applicable agreements or policies, (c) to protect our rights or property, or the security or integrity of our services, or (d) to protect us, users of our services or the public from harm or potentially prohibited or illegal activities; and
• With others, for any purpose allowed by law.

Location of Servers and Transfer of Information to the United States. The Site is hosted by servers in the United States and we operate our business globally. Some countries may not provide the same level of data protection as your home country. If you are located, for example, in European Economic Area or Switzerland (collectively, "Europe"), your Personal Information will be transferred to the United States and possibly to other jurisdictions (e.g., to the location of a property for which you have requested information), which are not considered to provide an adequate level of protection under your local data protection laws. We, therefore, provide appropriate protections for cross-border transfers as required by applicable law. For transfers from Europe to the United States, or other non-European jurisdictions, we have implemented the standard contractual clauses approved by the European Commission, and other approved mechanisms to protect Personal Information, as required by applicable law. As permitted by data protection laws, you may request a copy of the suitable mechanisms we have in place by contacting us as detailed below.
4. LEGAL GROUNDS FOR THE COLLECTION, USE, SHARING, AND OTHER
PROCESSING OF PERSONAL INFORMATION
Certain jurisdictions, including those in Europe, require the identification of the legal grounds for the collection, use, sharing, and other processing of Personal Information. Alexis Bittar relies on the following legal grounds for its collection, use, sharing, and other processing of Personal Information as described in this Privacy Statement: • Necessary to provide information or otherwise carry out the performance of a contract with you as an individual;
• Our legitimate interests, including:
• Performance of the contract with you;
• Implementation and operation of a group-wide matrix structure and group-wide information sharing;
• Customer relationship management and other forms of marketing and analytics;
• Fraud prevention, misuse of company IT systems, or money laundering;
• Whistleblower scheme operations;
• Physical, IT, and network perimeter security;
• Internal investigations; and
• Intended mergers and acquisitions;
• Compliance with legal obligations and/or defense against legal claims, including those in the area of labor law, social security, and data protection, tax, and corporate compliance laws;
• Protection of the vital interests of any individual;
• Performance of a task carried out in the public interest or in the exercise of official authority vested in Alexis Bittar; and
• Consent, as permitted by applicable law.
5. YOUR RIGHTS CONCERNING YOUR PERSONAL INFORMATION
You have the following choices regarding our use and disclosure of your Personal Information:
• MARKETING COMMUNICATIONS. If you no longer wish to receive any marketing communications, remain on a mailing list to which you previously subscribed or receive any other communication from Alexis Bittar, please follow the unsubscribe link in the relevant communications or contact us using the link at the bottom of the message. Even after you opt-out or update your marketing preferences, however, we may still contact you for transactional or informational purposes. These include, for example, customer service issues, returns or product-related inquiries, surveys or recalls, or any questions regarding a specific order.
• COOKIES AND SIMILAR TECHNOLOGIES. Please review your browser or computer settings for certain cookies and see below to exercise certain choices regarding cookies.

PRIVACY NOTICE FOR CALIFORNIA RESIDENTS
If you are a California resident, the California Consumer Privacy Act of 2018 ("CCPA") additionally affords rights to you with respect to your Personal Information. Please note that other sections of this Privacy Policy apply to California residents, and this notice supplements the information contained in the Privacy Policy. Please read the Privacy Policy in its entirety.

YOUR RIGHTS UNDER THE CCPA
• California residents have the right, following a verifiable request, to access (twice in a 12-month period, free of charge) the categories and specific pieces of Personal Information we have collected about you, the categories of sources from which the Personal Information is collected, and the business purpose for collecting the Personal Information for the 12-month period prior to the request ("Right to Know").
• California residents have the right to request that we delete their Personal Information we have collected or maintained, subject to certain exceptions set forth in the CCPA ("Right to Request Deletion"). Please note that we may not be able to honor deletion requests in all cases, including when your Personal Information is subject to a statutory exception. Those exceptions include, for example, when we need to retain the information to: (i) complete a transaction or otherwise perform a contract between us and the consumer; (ii) detect or protect against security incidents or fraud; (iii) comply with legal obligations; and/or (iv) as otherwise set forth as an applicable exception under the CCPA or other relevant privacy laws.
• We will not discriminate against you for exercising your rights afforded by the CCPA, which is further in accordance with California residents' rights under that title.
• For additional information on our categories of information collected, sources of collection and business or commercial purposes of such collection, please email us at service@alexisbittar.com.

EUROPEAN UNION AND EUROPEAN ECONOMIC AREA PRIVACY RIGHTS
Europe and certain other non-US jurisdictions maintain local data protection regulations that confer certain data protection rights on individuals. Alexis Bittar will address those rights where required by applicable laws. If applicable, and you wish to exercise any of these rights, please contact us as set out below.
• Right of access: You have the right to obtain from us confirmation as to whether or not Personal Information concerning you is processed, and, to request access to the Personal Information. The access information includes, among other things, the purposes of the processing, the categories of Personal Information concerned, and the recipients or categories of recipient to whom the Personal Information have been or will be disclosed. This is not, however, an absolute right, and the interests of other individuals may restrict your right of access.
• Right to rectification: You have the right to obtain from us the rectification of inaccurate Personal Information about you. Depending on the purposes of the processing, you may have the right to have incomplete Personal Information completed, including by means of providing a supplementary statement.
• Right to erasure (right to be forgotten): Under certain circumstances, you have the right to obtain from us the erasure of Personal Information concerning you, and we may be obligated to erase that Personal Information.
• Right to restriction of processing: Under certain circumstances, you have the right to obtain from us restriction of processing your Personal Information. In that case, your data will be marked and may only be processed by us for certain limited purposes. As Alexis Bittar processes and uses your Personal Information primarily for purposes of carrying out the contract for a services relationship with you, Alexis Bittar will have a legitimate interest for the processing which will override your restriction request, unless the restriction request relates to marketing activities.
• Right to data portability: Under certain circumstances, you have the right to receive the Personal Information about you, which you have provided to us, in a structured, commonly used and machine-readable format, and you have the right to transmit that data to another entity without hindrance from us.
• Right to object: Under certain circumstances, you have the right to object, on grounds relating to your particular situation, at any time to the processing of your Personal Information by us, and we can be required to no longer process your Personal Information.
• Right to file a complaint: Where permitted by applicable law, you also have the right to lodge a complaint with a competent data protection supervisory authority.
6. SECURITY
The security and confidentiality of your Personal Information matters to us. That's why we have adequate technical, administrative, and physical controls in place to protect your Personal Information from unauthorized access, use, and disclosure. For example, we provide the option to encrypt all information you submit to us using Secure Sockets Layer ("SSL") technology that helps protect information during transport to our Site. We also review our security procedures periodically to consider appropriate new technology and updated methods. Even so, despite our reasonable efforts, no security measure is ever perfect or impenetrable.
7. DATA RETENTION
Depending on the service you require, we will retain your Personal Information only for the period necessary to fulfill the purposes outlined in this Privacy Statement or as set out in our contracts with our business partners, unless a longer retention period is required or permitted by a law that applies to us.
8. CHILDREN
This Site is not intended or directed to children under the age of 16, and we do not knowingly collect any Personal Information, or knowingly track the use of our Site, from children. If Alexis Bittar has actual knowledge that Personal Information about a child under 16 years old has been collected, then Alexis Bittar will take the appropriate steps to delete such Personal Information. If you believe that a child under the age of 16 (or other age as applicable in a different jurisdiction) has provided Personal Information to us on this Site without the consent of a parent or guardian, or if you wish to delete your child's Personal Information collected from this Site, please notify us at service@alexisbittar.com.
9. COOKIES AND SIMILAR TRACKING TECHNOLOGIES
Information Collected Through Technology. Information is also obtained in other ways through technology. Some of this information may be linked to you personally. In accordance with applicable law, Alexis Bittar uses and allows third parties to use essential and non-essential cookies, online tracking tools, web beacons, and similar technologies (collectively, "cookies") on our Site. We process this information to help our Site function correctly, and better understand the needs of our customers.

Cookies on our Site generally fall into the following categories:
• Strictly Necessary Cookies: These are required for the operation of our Site. They include, for example, cookies that enable you to log into secure areas. These cookies are session cookies which are erased when you close your browser.
• Analytical/Performance Cookies: These allow us to recognize and count the number of users of our Site and see how such users navigate through our Site. This helps to improve how our Site works, for example, by ensuring that users can find what they are looking for easily. These cookies are session cookies which are erased when you close your browser.
• Functional Cookies: These improve the functional performance of our Site and make it easier for you to use. For example, cookies are used to remember that you have previously visited the Site and ask to remain logged into it. These cookies are session cookies which are erased when you close your browser.
• Targeting Cookies: These record your visit to our Site, the pages you have visited and the links you have followed to recognize you as a previous visitor and to track your activity on the Site and other websites you visit. These cookies qualify as persistent cookies, because they remain on your device for us to use during a next visit to our Site. You can delete these cookies via your browser settings. We will not collect these cookies from individuals in Europe without proper consent.

Use of Cookies. We advertise in a number of ways, including online through managed social media presences, and on other unaffiliated sites and mobile applications. To understand how our advertising campaigns are performing, we may collect certain information via cookies on our Site through our advertising service providers. The information we collect includes IP addresses, the number of page visits, pages viewed via our Site, search engine referrals, browsing activities over time and across other websites following your visit to our Site or applications, and responses to advertisements and promotions on the websites and applications where we advertise.

We also use certain information to identify new visitors to our Site, recognize returning visitors, advertise on other websites and mobile applications not affiliated with us, analyze the effectiveness of our advertisements, better understand our audience, customers, or other Site visitors, and determine whether you might be interested in new products or services.

Controlling Our Tracking Tools. Your browser may give you the ability to control cookies. How you do so, however, depends on your browser and the type of cookie. Certain browsers can be set to reject all browser cookies. If you configure your computer to block all cookies, you may disrupt certain web page features, and limit the functionality we can provide when you visit or use our Site. (e.g., we will not be able to provide you with searches that you have asked us to save). You can change your cookie settings at any time. Some browsers have a "Do Not Track" feature that lets you tell websites that you do not want to have your online activities tracked. These browser features are still not uniform, so we are not currently set up to respond to those signals.

Controlling Online Interest-Based Ads. We sometimes work with online advertising vendors to provide you with relevant and useful ads. This may include ads served on or through our Site. This may also include ads served on other companies' websites. These ads may be based on information collected by us or third parties. For example, your postal code may be used to target an ad for people in your area. These ads may also be based on your activities on our Site or on third-party websites.

For more information about our ad service provider and its cookies, including information about how to opt out of these technologies, you may visit https://www.google.com/privacy/ . In addition, users may prevent Google's collection of data generated by your use of our Site (including your IP address) by downloading and installing a Browser Plugin available at https://tools.google.com/dlpage/gaoptout?hl=en.
10. CHANGES OR OTHER UPDATES TO THIS PRIVACY STATEMENT
We may amend this Privacy Statement at any time. If we make any material change in how we collect, use, disclose, or otherwise process Personal Information, we will prominently post an updated Privacy Statement on our Site. Any material changes to this Privacy Statement will be effective after our posting of the updated Privacy Statement or as otherwise required by applicable law. Where required to do so by law, we may seek your prior consent to any material changes we make to this Privacy Statement. Your continued use of the Site following the posting of changes constitutes your acceptance of such changes.
11. COMMENTS AND QUESTIONS
If you have any questions or concerns about this Privacy Statement or wish to correct or update your Personal Information, wish to unsubscribe from any industry updates you have requested by modifying or deleting your profile on the Site, or need to access this Privacy Statement in an alternative format due to a disability, please:
• Write to customer service at:
Alexis Bittar
68 34th Street
Suite C556
Brooklyn, NY 11232;
• Send us an email at service@alexisbittar.com; and/or
• Call us toll-free 1-888-807-7780
Mobile Terms of Service
Last updated: Aug. 22, 2022
The Alexis Bittar mobile message service (the "Service") is operated by AnonX Inc. (dba Alexis Bittar) ("Alexis Bittar", "we", or "us"). Your use of the Service constitutes your agreement to these terms and conditions ("Mobile Terms"). We may modify or cancel the Service or any of its features without notice. To the extent permitted by applicable law, we may also modify these Mobile Terms at any time and your continued use of the Service following the effective date of any such changes shall constitute your acceptance of such changes.
By consenting to Alexis Bittar's SMS/text messaging service, you agree to receive recurring SMS/text messages from and on behalf of Alexis Bittar through your wireless provider to the mobile number you provided, even if your mobile number is registered on any state or federal Do Not Call list. Text messages may be sent using an automatic telephone dialing system or other technology. Service-related messages may include updates, alerts, and information (e.g., order updates, account alerts, etc.). Promotional messages may include promotions, specials, and other marketing offers (e.g., cart reminders).
You understand that you do not have to sign up for this program in order to make any purchases, and your consent is not a condition of any purchase with Alexis Bittar. Your participation in this program is completely voluntary.
We do not charge for the Service, but you are responsible for all charges and fees associated with text messaging imposed by your wireless provider. Message frequency varies. Message and data rates may apply. Check your mobile plan and contact your wireless provider for details. You are solely responsible for all charges related to SMS/text messages, including charges from your wireless provider.
You may opt-out of the Service at any time. Text the single keyword command STOP to +18333180511 or click the unsubscribe link (where available) in any text message to cancel. You'll receive a one-time opt-out confirmation text message. No further messages will be sent to your mobile device, unless initiated by you. If you have subscribed to other Alexis Bittar mobile message programs and wish to cancel, except where applicable law requires otherwise, you will need to opt out separately from those programs by following the instructions provided in their respective mobile terms.
For Service support or assistance, text HELP to +18333180511 or email service@alexisbittar.com.
We may change any short code or telephone number we use to operate the Service at any time and will notify you of these changes. You acknowledge that any messages, including any STOP or HELP requests, you send to a short code or telephone number we have changed may not be received and we will not be responsible for honoring requests made in such messages.
The wireless carriers supported by the Service are not liable for delayed or undelivered messages. You agree to provide us with a valid mobile number. If you get a new mobile number, you will need to sign up for the program with your new number.
To the extent permitted by applicable law, you agree that we will not be liable for failed, delayed, or misdirected delivery of any information sent through the Service, any errors in such information, and/or any action you may or may not take in reliance on the information or Service.
We respect your right to privacy. To see how we collect and use your personal information, please see our Privacy Notice.
Terms & Conditions
Welcome to alexisbittar.com. By accessing this site, you agree to be bound by these Terms and Conditions of Use, which may be updated from time to time. Please read them carefully.
USE OF CONTENT ON THIS SITE
All content on this site (including, without limitation, text, design, graphics, logos, icons, images, audio clips, downloads, interfaces, code and software, as well as the selection and arrangement thereof), is the exclusive property of and owned by Alexis Bittar or its content providers and is protected by copyright, trademark and other applicable laws. You may access, copy, download and print the material contained on the site for your personal and non-commercial use, provided you do not modify or delete any copyright, trademark or other proprietary notice that appears on the material you access, copy, download or print. Any other use of content on the site, including but not limited to the modification, distribution, transmission, performance, broadcast, publication, uploading, licensing, reverse engineering, transfer or sale of, or the creation of derivative works from, any material, information, software, products or services obtained from the site, or use of the site for purposes competitive to Alexis Bittar, is expressly prohibited. Alexis Bittar reserves the right in its sole discretion to refuse or cancel any person's registration for this site, remove any person from this site or prohibit any person from accessing or using this site for any reason whatsoever and without notice. Alexis Bittar or its content providers, retain full and complete title to the material provided on the site, including all associated intellectual property rights, and provide this material to you under a license that is revocable at any time in Alexis Bittar's sole discretion. Alexis Bittar neither warrants nor represents that your use of materials on this site will not infringe rights of third parties not affiliated with Alexis Bittar.

You may not use contact information provided on the site for unauthorized purposes, including marketing. You may not use any hardware or software intended to damage or interfere with the proper working of the site or to surreptitiously intercept any system, data or personal information from the site. You agree not to interrupt or attempt to interrupt the operation of the site in any way. If you are terminated from using this site, you will be personally liable for any orders that you place or charges or other liabilities that you incur prior to termination. Termination of your access or use will not waive or affect any other right or relief to which Alexis Bittar may be entitled, at law or in equity.
CONDUCT ON THE SITE
You may not make commercial use of any Alexis Bittar materials; collect or use any product listings, descriptions, or prices; or make any derivative use of any Alexis Bittar contents; download or copy account information for the benefit of another merchant; or use data mining, robots, or similar data gathering and extraction tools. No Alexis Bittar materials, nor any part of the Alexis Bittar site, may be reproduced, duplicated, copied, sold, resold, visited, or otherwise exploited for any commercial purpose without express written consent of Alexis Bittar. You or third parties acting on your behalf may not frame or utilize framing technology to enclose any trademark, logo, or other proprietary information (including images, text, page layout, or form) of Alexis Bittar without our express written consent. You may not use any meta tags or any other "hidden text" utilizing Alexis Bittar's name or trademarks without the express written consent of Alexis Bittar. You may use the Alexis Bittar website only as permitted by law.
TRADEMARKS AND COPYRIGHTS
This site and all content on this site, including but not limited to text, design, graphics, logos, button icons, images, audio clips, digital downloads, and data compilations is the exclusive property of Alexis Bittar or its content suppliers and protected by United States and international copyright laws. In addition, all trademarks, logos and service marks displayed on this site are registered and unregistered trademarks of Alexis Bittar. All of these trademarks, logos and service marks are the property of Alexis Bittar. Nothing on this site shall be construed as granting, by implication, estoppel, or otherwise, any license or right to use any trademark, logo or service mark displayed on the site without our prior written permission, except as otherwise described herein. Alexis Bittar reserves all rights not expressly granted in and to the site and its content.
INFRINGEMENT NOTICES
Alexis Bittar respects the intellectual property of others. If you believe that your work has been copied in a way that constitutes copyright infringement, please contact us at 86 34th Street, 3rd Floor Section DS, Brooklyn, NY 11232, Attn: Legal Dept. Your correspondence should include the following information so that we may investigate your claim: • An electronic or physical signature of the person authorized to act on behalf of the owner of the copyright interest; • A description of the copyrighted work that you claim has been infringed upon;
• A description of where the material that you claim is infringing is located on the site;
• Your address, telephone number, and e-mail address;
• A statement by you that you have a good-faith belief that the disputed use is not authorized by the copyright owner, its agent, or the law;
• A statement by you, made under penalty of perjury, that the above information in your notice is accurate and that you are the copyright owner or authorized to act on the copyright owner's behalf.
YOUR ACCOUNT
Some features that may be available on this site require registration or use of a password. You are responsible for maintaining the confidentiality of your account and password and for restricting access to your computer, and you agree to accept responsibility for any and all statements made, and all acts and omissions that occur through the use of your account or password. If you have any reason to believe or become aware of any loss, theft or unauthorized use of your password, notify Alexis Bittar immediately. Alexis Bittar may assume that any communications we receive under your password have been made by you unless we receive notice otherwise.

Alexis Bittar does sell products for children, but it sells them to adults, who can purchase with a credit card or other permitted payment method. If you are under 18, you may use the Alexis Bittar site only with involvement of a parent or guardian. Alexis Bittar reserves the right to refuse service, terminate accounts, remove or edit content, or cancel orders in its sole discretion.
Alexis Bittar Loyalty Program

Members of the Alexis Bittar Loyalty Program earn rewards points and other exclusive perks. Rewards point balances are displayed in your account center. Your account must be in good standing to receive and use points. The program is available to individuals for their personal use only and is limited to one account per individual. Corporations, associations or other groups may not participate in the program. No purchase is necessary to join the program.

Points are awarded on dollars spent on the product, not including duties, tariffs, taxes, and shipping costs. Points earned on purchases are eligible for use 21 days after the date of purchase. Points can be earned on full price items only, unless otherwise noted by Alexis Bittar. The purchase of gift cards, Fine Jewelry and Antique styles are not eligible. Merchandise returns and other financial adjustments will be deducted from your total rewards point balance. 

When you have Alexis Bittar rewards points eligible to be used towards a purchase, they will be displayed in your profile and at checkout. Alexis Bittar rewards points are not transferable and rewards can only be utilized for purchases made at www.alexisbittar.com or in Alexis Bittar stores. All points expire 2 years from your last eligible purchase. Your Loyalty Program tier level is based on the total sum of your earned points up to 1 year of joining the program. After 1 year, you will need to requalify for each tier's status.
Please see our Loyalty Page for more information about tiers, earning and spending rewards points.

By joining the program and becoming a member, you agree that you have read, understood and agree to these terms and conditions. Alexis Bittar may, at any time, terminate, change, limit, modify or cancel the Loyalty Program or the terms by posting the modified terms on our website. You should check the terms routinely to ensure you understand the terms that apply at that time. Your continued participation in the Loyalty Program after such posting will constitute your acceptance.

For questions regarding your point balance or the Alexis Bittar Rewards Program please contact us via email at service@alexisbittar.com or by calling Client Services at 1-888-807-7780.
CONTENT YOU SUBMIT
You acknowledge that you are responsible for any material you may submit via the site, including the legality, reliability, appropriateness and originality of any such material. You may not upload to, distribute or otherwise publish through this site any content that (i) is false, fraudulent, libelous, defamatory, obscene, threatening, invasive of privacy or publicity rights, infringing on intellectual property rights, abusive, illegal or otherwise objectionable; (ii) may constitute or encourage a criminal offense, violate the rights of any party or otherwise give rise to liability or violate any law; or (iii) may contain software viruses, political campaigning, chain letters, mass mailings, or any form of spam. You may not use a false email address or other identifying information, impersonate any person or entity or otherwise mislead as to the origin of any content. You may not upload commercial content onto the site.

If you do submit material, and unless we indicate otherwise, you grant Alexis Bittar and its affiliates a non-exclusive, royalty-free, perpetual, irrevocable and fully sublicensable right to use, reproduce, modify, adapt, publish, translate, create derivative works from, distribute and display such material throughout the world in any media. You grant Alexis Bittar and its affiliates the right to use the name you submit in connection with such material, if they so choose. All personal information provided via this site will be handled in accordance with the site's online Privacy Policy. You represent and warrant that you own or otherwise control all the rights to the content you post; that the content is accurate; that use of the content you supply does not violate any provision herein and will not cause injury to any person or entity; and that you will indemnify Alexis Bittar for all claims resulting from content you submit.

Alexis Bittar has no obligation to post, forward, transmit, distribute or otherwise provide any material available on this site, including material you provide to us, and has an absolute right to remove any material from the site in our sole discretion at any time.
ELECTRONIC COMMUNICATIONS
When you make a purchase on alexisbittar.com, or send e-mails to us, you are communicating with us electronically. You consent to receive communications from us electronically. We will communicate with you by e-mail or by posting notices on this site. You agree that all agreements, notices, disclosures and other communications that we provide to you electronically satisfy any legal requirement that such communications be in writing.
ORDERS, PROHIBITION ON RESELLING, AND PRICE
The information on this site does not constitute a binding offer to sell products described on the site or to make such products available in your area. We reserve the right at any time after receipt of your order to accept or decline your order, or any portion thereof, in our sole discretion, even after your receipt of an order confirmation or after your credit card has been charged. You may not purchase any item from this site for resale by you or any other person, and you may not resell any item purchased from this site. The prices displayed on the site are quoted in U.S. dollars and are intended to be valid and effective only in the United States. In the event a product is listed at an incorrect price, we have the right to refuse or cancel orders placed for the product listed at the incorrect price, regardless of whether the order has been confirmed or your credit card charged. If your credit card has already been charged for the purchase and your order is canceled, we will issue a credit to your credit card account.
PRODUCT INFORMATION
Select product can be found in our full price stores in the United States while supplies last. In some cases, merchandise displayed for sale on the site may not be available in stores. The particular technical specifications and settings of your computer and its display could affect the accuracy of its display of the colors of products offered on the site.
DISCLAIMERS
YOU EXPRESSLY AGREE THAT YOUR USE OF THE ALEXIS BITTAR SITE IS AT YOUR SOLE RISK. THE ALEXIS BITTAR SITE AND ALL INFORMATION, CONTENT, MATERIALS, PRODUCTS (INCLUDING SOFTWARE) AND OTHER SERVICES INCLUDED ON OR OTHERWISE MADE AVAILABLE TO YOU THROUGH THE ALEXIS BITTAR SITE ARE PROVIDED BY ALEXIS BITTAR ON AN "AS IS" AND "AS AVAILABLE" BASIS. WE RESERVE THE RIGHT TO RESTRICT OR TERMINATE YOUR ACCESS TO THE SITE OR ANY FEATURE OR PART THEREOF AT ANY TIME.

TO THE FULL EXTENT PERMISSIBLE BY APPLICABLE LAW, ALEXIS BITTAR EXPRESSLY DISCLAIMS ALL WARRANTIES OF ANY KIND, EXPRESS OR IMPLIED, INCLUDING BUT NOT LIMITED TO IMPLIED WARRANTIES OF MERCHANTABILITY AND FITNESS FOR A PARTICULAR PURPOSE AND ANY WARRANTIES THAT MATERIALS ON THE SITE ARE NONINFRINGING, AS WELL AS WARRANTIES IMPLIED FROM A COURSE OF PERFORMANCE OR COURSE OF DEALING; THAT ACCESS TO THE SITE WILL BE UNINTERRUPTED OR ERROR-FREE; THAT THE SITE WILL BE SECURE; THAT THE SITE OR THE SERVER THAT MAKES THE SITE AVAILABLE WILL BE VIRUS-FREE; OR THAT INFORMATION ON THE SITE WILL BE COMPLETE, ACCURATE OR TIMELY. IF YOU DOWNLOAD ANY MATERIALS FROM THIS SITE, YOU DO SO AT YOUR OWN DISCRETION AND RISK. YOU WILL BE SOLELY RESPONSIBLE FOR ANY DAMAGE TO YOUR COMPUTER SYSTEM OR LOSS OF DATA THAT RESULTS FROM THE DOWNLOAD OF ANY SUCH MATERIALS. NO ADVICE OR INFORMATION, WHETHER ORAL OR WRITTEN, OBTAINED BY YOU FROM ALEXIS BITTAR OR THROUGH OR FROM THE SITE SHALL CREATE ANY WARRANTY OF ANY KIND. ALEXIS BITTAR DOES NOT MAKE ANY WARRANTIES OR REPRESENTATIONS REGARDING THE USE OF THE MATERIALS ON THIS SITE IN TERMS OF THEIR COMPLETENESS, CORRECTNESS, ACCURACY, ADEQUACY, USEFULNESS, TIMELINESS, RELIABILITY OR OTHERWISE. ANY RELIANCE ON THE MATERIAL ON THIS SITE IS AT YOUR OWN RISK. WE RESERVE THE RIGHT TO MODIFY THE CONTENTS OF THIS SITE AT ANY TIME, BUT WE HAVE NO OBLIGATION TO UPDATE ANY INFORMATION ON THE SITE.

IN CERTAIN JURISDICTIONS, THE LAW MAY NOT PERMIT THE DISCLAIMER OF WARRANTIES, SO THE ABOVE DISCLAIMER MAY NOT APPLY TO YOU.
LIMITATION OF LIABILITY
YOU ACKNOWLEDGE AND AGREE THAT YOU ASSUME FULL RESPONSIBILITY FOR YOUR USE OF THE SITE. YOU ACKNOWLEDGE AND AGREE THAT ANY INFORMATION YOU SEND OR RECEIVE DURING YOUR USE OF THE SITE MAY NOT BE SECURE AND MAY BE INTERCEPTED BY UNAUTHORIZED PARTIES. YOU ACKNOWLEDGE AND AGREE THAT YOUR USE OF THE SITE IS AT YOUR OWN RISK AND THAT THE SITE IS MADE AVAILABLE TO YOU AT NO CHARGE. RECOGNIZING SUCH, YOU ACKNOWLEDGE AND AGREE THAT, TO THE FULLEST EXTENT PERMITTED BY APPLICABLE LAW, NEITHER ALEXIS BITTAR NOR ITS AFFILIATES, SUPPLIERS OR THIRD PARTY CONTENT PROVIDERS WILL BE LIABLE FOR ANY DIRECT, INDIRECT, PUNITIVE, EXEMPLARY, INCIDENTAL, SPECIAL, CONSEQUENTIAL OR OTHER DAMAGES ARISING OUT OF OR IN ANY WAY RELATED TO THE SITE, OR ANY OTHER SITE YOU ACCESS THROUGH A LINK FROM THIS SITE OR FROM ANY ACTIONS WE TAKE OR FAIL TO TAKE AS A RESULT OF COMMUNICATIONS YOU SEND TO US, OR THE DELAY OR INABILITY TO USE THE SITE, OR FOR ANY INFORMATION, PRODUCTS OR SERVICES ADVERTISED IN OR OBTAINED THROUGH THE SITE, ALEXIS BITTAR'S REMOVAL OR DELETION OF ANY MATERIALS SUBMITTED OR POSTED ON ITS SITE, OR OTHERWISE ARISING OUT OF THE USE OF THE SITE, WHETHER BASED ON CONTRACT, TORT, STRICT LIABILITY OR OTHERWISE, EVEN IF ALEXIS BITTAR, ITS AFFILIATES OR ANY OF ITS SUPPLIERS HAS BEEN ADVISED OF THE POSSIBILITY OF DAMAGES. THIS DISCLAIMER APPLIES, WITHOUT LIMITATION, TO ANY DAMAGES OR INJURY ARISING FROM ANY FAILURE OF PERFORMANCE, ERROR, OMISSION, INTERRUPTION, DELETION, DEFECTS, DELAY IN OPERATION OR TRANSMISSION, COMPUTER VIRUSES, FILE CORRUPTION, COMMUNICATION-LINE FAILURE, NETWORK OR SYSTEM OUTAGE, YOUR LOSS OF PROFITS, OR THEFT, DESTRUCTION, UNAUTHORIZED ACCESS TO, ALTERATION OF, LOSS OR USE OF ANY RECORD OR DATA, AND ANY OTHER TANGIBLE OR INTANGIBLE LOSS. YOU SPECIFICALLY ACKNOWLEDGE AND AGREE THAT NEITHER ALEXIS BITTAR NOR ITS SUPPLIERS SHALL BE LIABLE FOR ANY DEFAMATORY, OFFENSIVE OR ILLEGAL CONDUCT OF ANY USER OF THE SITE. YOUR SOLE AND EXCLUSIVE REMEDY FOR ANY OF THE ABOVE CLAIMS OR ANY DISPUTE WITH ALEXIS BITTAR IS TO DISCONTINUE YOUR USE OF THE SITE. YOU AGREE THAT ANY CAUSE OF ACTION ARISING OUT OF OR RELATED TO THE SITE MUST COMMENCE WITHIN ONE (1) YEAR AFTER THE CAUSE OF ACTION ACCRUES OR THE CAUSE OF ACTION IS PERMANENTLY BARRED. BECAUSE SOME JURISDICTIONS DO NOT ALLOW LIMITATIONS ON HOW LONG AN IMPLIED WARRANTY LASTS, OR THE EXCLUSION OR LIMITATION OF LIABILITY FOR CONSEQUENTIAL OR INCIDENTAL DAMAGES, ALL OR A PORTION OF THE ABOVE LIMITATION MAY NOT APPLY TO YOU.
INDEMNIFICATION
You agree to indemnify, defend and hold harmless Alexis Bittar and its affiliates and their officers, directors, employees, contractors, agents, licensors, service providers, subcontractors and suppliers from and against any and all losses, liabilities, expenses, damages and costs, including reasonable attorneys' fees and court costs, arising or resulting from your use of the site and any violation of these Terms and Conditions of Use. If you cause a technical disruption of the site or the systems transmitting the site to you or others, you agree to be responsible for any and all losses, liabilities, expenses, damages and costs, including reasonable attorneys' fees and court costs, arising or resulting from that disruption. Alexis Bittar reserves the right, at its own expense, to assume exclusive defense and control of any matter otherwise subject to indemnification by you and, in such case, you agree to cooperate with Alexis Bittar in the defense of such matter.
JURISDICTION AND APPLICABLE LAW
The laws of the State of New York govern these Terms and Conditions of Use and your use of the site, and you irrevocably consent to the jurisdiction of the courts located in the County of New York for any action arising out of or relating to these Terms and Conditions of Use. We recognize that it is possible for you to obtain access to this site from any jurisdiction in the world, but we have no practical ability to prevent such access. This site has been designed to comply with the laws of the State of New York and of the United States. If any material on this site, or your use of the site, is contrary to the laws of the place where you are when you access it, the site is not intended for you, and we ask you not to use the site. You are responsible for informing yourself of the laws of your jurisdiction and complying with them.
SITE POLICIES, MODIFICATION, AND SEVERABILITY
Please review our other policies, such as our privacy policy, posted on this site. These policies also govern your use of Alexis Bittar's site and services. We reserve the right, in our sole discretion, to make changes to our site, policies, and these Terms and Conditions of Use at any time. It is your responsibility to check periodically for any changes we may make to these Terms and Conditions of Use. Your continued use of this site following the posting of changes to these Terms and Conditions of Use or other policies means you accept the changes. If any of these conditions shall be deemed invalid, void, or for any reason unenforceable, that condition shall be deemed severable and shall not affect the validity and enforceability of any remaining condition.
UK VAT TAX
Schedule 1.
 Terms of Service
 1. You are shopping on a merchant's website (the "Merchant"). If you place an order with the Merchant for delivery to an address in the UK (a "Qualifying Customer Order"), where the total value of the Products comprising of that order does not exceed 135 (one hundred and thirty five) British Pounds Sterling, or where Products comprising of that order are sent in separate consignments the value of which does not exceed 135 (one hundred and thirty five) British Pounds Sterling, the Products will be sold by Passport Global Limited ("Passport"), in the way we describe below.
 2. If you place a Qualifying Customer Order, the item(s) that you are purchasing will be sold first by the Merchant to Passport, and then by Passport to you. Passport becomes the "Supplier" of goods for UK VAT purposes in relation to your purchase. Your payment information, shipping address, and any additional information required or requested to complete your order will be shared directly with Passport and its nominated agents and contractors, in order to enable Passport complete your Customer Order.
 3. Your Qualifying Customer Order is subject to: (1) these Terms of Service; and (2) any relevant terms and conditions imposed by the Merchant. By completing your purchase, you confirm that you have read and agree to be bound by allof these.
 4. By placing a Customer Order on the Merchant's website, you understand and agree that:
 4.1 You are dealing with and providing your information to Passport. Passport is entitled to verify and authenticate your payment information, and if it is unable to verify this information, Passport may contact you and/or your payment card issuer to confirm your identity and/or your intent to place the order.
 4.2 If there is an error in the price listed for a product on the Merchant's website, or in the price applied to the product during the sale of and processing of your order for the product, Passport is entitled to contact you, correct the price,and/or cancel your order.
 4.3 The Merchant remains responsible for handling payment for your order.
 4.4 Once your payment is processed, ownership in the items will shift from Passport, to you, and, the items in your order will be provided to a carrier for shipment to you.
 4.5 Passport or the Merchant will direct the carrier to ship your order to the shipping address you provided. Certain addresses will be ineligible for shipment, such as PO box addresses.
 4.6 Passport may refuse service, refuse to process or complete Qualifying Customer Orders, remove or edit content, or cancel such orders for any reason or for no reason, in its sole discretion.
 4.7 If you are under the age of majority in the jurisdiction in which you reside, approval of your parent or guardian is required to complete your purchase.
 5. Currency. You may select your preferred payment method and currency from a list of options available at the time of checkout. Please note that the relative value of currencies may vary, and as a result, the actual purchase price for items in your order may vary based on the currency selected.
 6. Billing. If you use a payment card or other electronic form of payment as your payment type, the charges to your account for your order will be subject to the Merchant's terms and conditions.
 7. Shipping. Items in your order may be shipped via a single shipment, or via multiple shipments. If items in your Qualifying Customer Order are shipped via multiple shipments, or if your order is only partially filled and shipped, you will only be charged for those items that are actually shipped to you.
 8. Chargebacks, Fraud Prevention and Void Transactions. For your protection, Passport may use various fraud prevention protocols and policies, and industry-standard verification systems, to reduce fraud and minimize chargeback risks. You must comply with such protocols and policies, including card authentication, and "ship to" and "bill to" address verification. Once an order is placed, you may not change any authenticated payment information or any verified "ship to"/"bill to" address. If there is a systemic error which results in the processing or acceptance of a transaction for which authorisation has been declined, that transaction will be void. 9. Customer Service and Returns. Questions or complaints about your order should be directed to the Merchant in the first instance. Passport may work with the Merchant as necessary to resolve your issue. The Merchant is authorised to allow for returns or refunds on orders in accordance with the Merchant's policy, including to reimburse you for the original sales prices of returned products. Passport may refuse any return requested if a restriction applies to the item for which the return is requested. You accept that your sole remedies are against Merchant.
 10. General Terms. The following general terms apply whenever you place a Qualifying Customer Order through the Merchant's website:
 10.1 Compliance with Applicable Laws. You certify that any products purchased through a Qualifying Customer Order will not be exported, sold, or transferred in violation of any applicable laws, including without limitation the United States Export Administration Regulations or applicable United States sanctions and embargoes administered by the United StatesTreasury Department, nor It is your responsibility to know the laws of the country into which you are importing any products that you order from the Merchant's website. By placing an Qualifying Customer Order you certify that the import of the products you have ordered to the country of the shipping address you have provided does not violate any laws or regulations of that country.
 10.2 Privacy. To complete your Qualifying Customer Order you will be providing personal information to Passport and you consent to your personal information being collected, used, processed, disclosed and/or stored by Passport and our service providers as may be required in order to process and complete your order and otherwise provide the services you have requested, in accordance with Passport's Privacy Policy. Passport accepts no liability or responsibility for the collection, use, processing, disclosure or storage of your personal information by the Merchant or any service provider engaged by the Merchant. The collection, use, processing, disclosure and/or storage of your personal information by the Merchant or its service providers is governed by the Merchant's privacy policy. The Merchant and Passport may analyse transactional data for the purpose of identifying trends, statistics and measurements that could contribute to the enhancement of the Merchant's Customer experience and/or the services provided by Passport. Any transactional data analysed for these purposes will be aggregated and de-identified, meaning that any personally identifiable information will be removed.
 10.3 Electronic Communications. When you place a Qualifying Customer Order through the Merchant's website, you are communicating with Passport electronically, and you consent to entering into this agreement by electronic means, and to receive communications from Passport electronically/via email.
 10.4 Modifications. You acknowledge that Passport may make changes to its system, policies, and these Terms of Service atany time. Passport will ensure that the current version of these Terms of Service is presented every time you make a Qualifying Customer Order on the Merchant's website. You are responsible for reviewing these Terms of Service each time you make a Customer Service. If you do not agree to any change in the Terms of Service, you must not complete your order. Any order placed after the effective date of a change will constitute your agreement to the change and to the current Terms of Service.
 10.5 Severability. If any or any portion of these Terms of Service is found to be invalid, void, or for any reason unenforceable,that term or portion of terms will be severed, and will not affect the validity and enforceability of the remaining terms.
 10.6 Proceedings. Any action or proceeding arising out of or relating to these Terms of Service must be brought in the courts of California, United States, and you hereby irrevocably agree to the jurisdiction of the courts of California, United States for all such purposes.
 10.7 Language. The parties have agreed and expressly requested that this agreement and all documents related to it be drawn up in English.
EU VAT TAX
Schedule 1. Terms and Conditions 1. You are shopping on a merchant's website (the "Merchant"). 2. If you place a Qualifying Customer Order, the Product(s) that you are purchasing will be sold first by the Merchant to Passport Global Inc ("Passport"), and then by Passport to you under these Terms and Conditions. Your payment information, shipping address, and any additional information required or requested to complete your order will be shared directly with Passport and its nominated agents and contractors, in order to enable Passport to complete your Qualifying Customer Order. 3. Your Qualifying Customer Order is subject to: (1) these Terms and Conditions; and (2) any relevant terms and conditions imposed by the Merchant. By completing your purchase, you confirm that you have read and agree to be bound by all of these. By placing a Qualifying Customer Order on the Merchant's website, you understand and agree that: 3.1 You are dealing with and providing your information to Passport. Passport may contact you about your order. 3.2 If there is an error in the price listed for a Product on the Merchant's website, or in the price applied to the product during the sale of and processing of your order for the Product, Passport and its nominated agents are entitled to contact you, correct the price, and/or cancel your order. 3.3 The Merchant remains responsible for handling payment for your order. 3.4 Once your payment is processed, ownership in the items will shift from Passport, to you. 3.5 Certain addresses will be ineligible for shipment, such as PO box addresses. 3.6 Passport may refuse service, refuse to process or complete Qualifying Customer Orders, remove or edit content, or cancel such orders for any reason or for no reason, in its sole discretion. 3.7 If you are under the age of majority in the jurisdiction in which you reside, approval of your parent or guardian is required to complete your purchase. 3.8 You authorise Passport and its nominated agents and contractors to perform any of the following activities in connection with the delivery of any Products: (i) to act as your agent to make and file customs declarations and all related actions as your direct representative, which expressly includes completing any documents, amending product or Harmonised System codes, and paying any duties, taxes or penalties required under applicable laws and regulations; (ii) to act as forwarding agent for customs import and export control purposes solely for the purpose of designating a customs broker to perform customs clearance and entry; and (iii) to redirect an order to your customs broker or other address upon request by any person whom Passport's nominated agents and contractors believe in its reasonable opinion to be authorised. 4. Currency. You may select your preferred payment method and currency from a list of options available at the time of checkout. Please note that the relative value of currencies may vary, and as a result, the actual purchase price for items in your order may vary based on the currency selected. 5. Billing. If you use a payment card or other electronic form of payment as your payment type, the charges to your account for your order will be subject to the Merchant's terms and conditions. 6. Shipping. Items in your order may be shipped via a single shipment, or via multiple shipments. If items in your Qualifying Customer Order are shipped via multiple shipments, or if your order is only partially filled and shipped, you will only be charged for those items that are actually shipped to you. 7. Chargebacks, Fraud Prevention and Void Transactions. For your protection, Passport may use various fraud prevention protocols and policies, and industry-standard verification systems, to reduce fraud and minimize chargeback risks. You must comply with such protocols and policies, including card authentication, and "ship to" and "bill to" address verification. Once an order is placed, you may not change any authenticated payment information or any verified "ship to"/"bill to" address. If there is a systemic error which results in the processing or acceptance of a transaction for which authorisation has been declined, that transaction will be void. 8. Customer Service and Returns. Questions or complaints about your order should be directed to the Merchant in the first instance. Passport may work with the Merchant as necessary to resolve your issue. The Merchant is authorised to allow for returns or refunds on orders in accordance with the Merchant's policy, including to reimburse you for the original sales prices of Products returned to the Merchant's nominated address. Passport may however refuse any return requested if a restriction applies to the item for which the return is requested. You accept that your sole remedies are against the Merchant. Where a return by the Customer is authorised by Passport or the Merchant, Passport shall also have the right to return the item to Merchant and accordingly the Merchant shall issue a credit note to Passport and Passport shall provide a credit note to the Customer, and Passport's direction, ownership and risk in the Products for return shall pass directly to the Merchant. Where a return is authorised by Passport or the Merchant, the Merchant shall, at Passport's direction and acting in its name, provide a credit note to the Customer to the extent of the value of the Product(s) authorised to be returned directly to the Merchant. In relation to any return of Products to the Merchant, you authorise Passport and its nominated agents to act on your behalf, and to recover for its own account, any import duties and taxes. If required, you will sign any such document that is reasonably required to facilitate the return of the Products and the recovery of any import duties and taxes. 9. General Terms. The following general terms apply whenever you place a Qualifying Customer Order through the Merchant's website: 9.1 Compliance with Applicable Laws. You certify that any Products purchased through a Qualifying Customer Order will not be imported, exported, sold, or transferred in violation of any applicable laws, including without limitation the United States Export Administration Regulations or applicable United States sanctions and embargoes administered by the United States Treasury Department, and equivalent statutes, regulations and codes of England and Wales or the EU. It is your responsibility to know the laws of the country into which you are importing any Products that you order from the Merchant's website. By placing a Qualifying Customer Order you certify that the import of the Products you have ordered to the country of the shipping address you have provided does not violate any laws or regulations of that country. 9.2 Privacy. To complete your Qualifying Customer Order you will be providing personal information to the Merchant and Passport and you consent to your personal information being collected, used, processed, disclosed and/or stored by the Merchant and Passport and our service providers as may be required in order to process and complete your order and otherwise provide the services you have requested, in accordance with the Merchant's and Passport's Privacy Policy. Passport accepts no liability or responsibility for the collection, use, processing, disclosure or storage of your personal information by the Merchant or any service provider engaged by the Merchant. The collection, use, processing, disclosure and/or storage of your personal information by the Merchant or its service providers is governed by the Merchant's privacy policy. The Merchant and Passport may analyse transactional data for the purpose of identifying trends, statistics and measurements that could contribute to the enhancement of the Merchant's Customer experience and/or the services provided by Passport. Any transactional data analysed for these purposes will be aggregated and de-identified, meaning that any personally identifiable information will be removed. 9.3 Electronic Communications. When you place a Qualifying Customer Order through the Merchant's website, you are communicating with Passport electronically, and you consent to entering into this agreement by electronic means, and to receive communications from Passport electronically/via email. 9.4 Modifications. You acknowledge that Passport may make changes to its system, policies, and these Terms and Conditions at any time. Passport will ensure that the current version of these Terms and Conditions is presented every time you make a Qualifying Customer Order on the Merchant's website. You are responsible for reviewing these Terms and Conditions each time you make a Qualifying Customer Order. If you do not agree to any change in the Terms and Conditions, you must not complete your order. Any order placed after the effective date of a change will constitute your agreement to the change and to the current Terms and Conditions . 9.5 Severability. If any or any portion of these Terms and Conditions is found to be invalid, void, or for any reason unenforceable, that term or portion of terms will be severed, and will not affect the validity and enforceability of the remaining terms. 9.6 Proceedings. Any action or proceeding arising out of or relating to these Terms and Conditions must be brought in the courts of California, United States, and you hereby irrevocably agree to the jurisdiction of the courts of California, United States for all such purposes. 9.7 Language. The parties have agreed and expressly requested that this agreement and all documents related to it be drawn up in English. 9.8 Definitions. "Member State", "third country" and "third territories" as defined in Article 5 of Council Directive 2006/12/EEC. "Products" means those goods offered for sale via the Merchant's website which are not of a class or description subject to any duty of excise whether or not those goods are in fact chargeable with that duty, and whether or not that duty has been paid on those goods, or prohibited or restricted goods were they to be imported into the UK, and which are not subject to any restrictions on export, sale, or transfer in violation of any Applicable Laws. "Product Prices" means the prices including VAT at the appropriate rate of the Products as held out for sale to Customer by the Merchant and accordingly, by Passport to Customer; and "Product Price" means the price of an individual Product. "Qualifying Customer Order" meets all of the following conditions: (A) It is an order for Product or Products placed via the Merchant's website which are to be transported from: a third country or territory, excluding Northern Ireland ("NI"), to an address in a Member State of the EU (e.g. USA to France); a third country or territory, excluding the UK, or from a Member State of the EU to an address in Great Britain (e.g. Germany to England); or a third country or territory, excluding NI, to an address in NI (e.g. USA to NI); and (B) In relation to the transport of a Product or Products to an address: in Great Britain or NI, the total intrinsic value of the Product or Products comprising that order does not exceed £135 (one hundred and thirty five) British Pounds Sterling, or where Products comprising an order exceed that sum but are sent in separate consignments, the intrinsic value of each consignment of which the Product or Products form part does not exceed £135 (one hundred and thirty five) British Pounds Sterling; and in a Member State of the EU, the total intrinsic value of the Product or Products comprising that order does not exceed €150 (one hundred and fifty) Euros, or where Products comprising an order exceed that sum but are sent in separate consignments, the intrinsic value of each consignment of which the Product or Products form part does not exceed €150 (one hundred and fifty) Euros.
ENTIRE AGREEMENT AND ADMISSIBILITY
This agreement and any policies or operating rules posted on this site constitute the entire agreement and understanding between you and Alexis Bittar with respect to the subject matter thereof and supersede all prior or contemporaneous communications and proposals, whether oral or written, between the parties with respect to such subject matter. A printed version of these Terms and Conditions of Use shall be admissible in judicial or administrative proceedings based on or relating to use of the site to the same extent and subject to the same conditions as other business documents and records originally generated and maintained in printed form.
HOW TO CONTACT US
If you have any questions or comments about these Terms and Conditions of Use or this site, please contact us by:
Phone: 1-888-807-7780
Email: Service@AlexisBittar.com

Thank you for visiting our site.